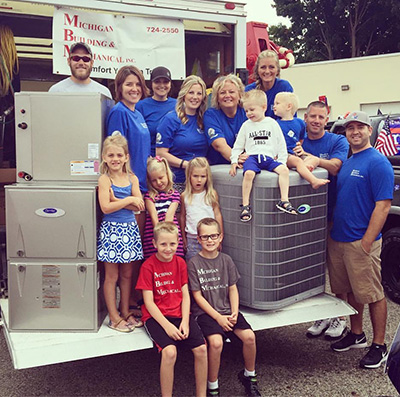 Michigan Building and Mechanical has been a family owned local business for over 25 years. Established in 1987, our heating and cooling company makes our customers' needs top priority. We strive to provide the best service possible within the Grand Rapids area, and we employ highly trained installation men and technicians who help make this goal a reality.
We specialize in designing and installing complete comfort systems in both new and existing homes. Our company is committed to making your experience with us pleasant and enjoyable. Our entire staff is well trained and is happy to assist you with all your heating and cooling needs. Both onsite and offsite, your experience with our company should be hassle-free and professional.
Your comfort is our responsibility. You place your trust in our company, and we promise to provide you with honesty from the very beginning to completion. We do not hide possible limitations from our customers and you will be told everything up front.
We are a professional company committed to a professional job well done. With a growing customer base every year, more and more people just like you are finding quality air comfort in their homes. It's easy to learn more – give us a call today!